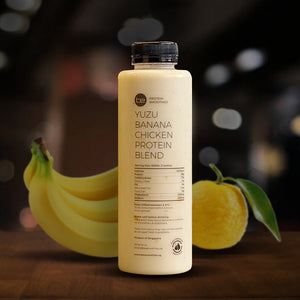 BE Protein Smoothies
Yuzu Banana
Sale price Price $8.80 Regular price
Tax included.
Our signature chicken protein blend comes with

 delicious combo of organic protein from lean chicken breast meat, antioxidants and vitamins from fresh fruits and live cultures from yogurt, naturally sweetened with honey. It provides the ideal carb-to-protein ratio that kickstarts muscle recovery and weight control with 100% real ingredients, no preservatives nor additives.

Product care:
As we don't add preservatives, please ensure that the smoothies are kept cold between 2-4°C in the fridge at all time upon receiving them. Once taken out from the fridge, please put it back within 1-2 hour if it is not fully consumed.